---
Singing Telegram (BANJOGRAM.com)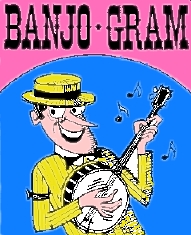 TO SEND Call or text cell-585-734-1044 or call -585-288-6360

Banjo player Mike Kornrich comes to your location to sing and play for someone special.
ALSO AVAILABLE AS SINGING GUITARIST with rock or country or more updated song.
Lively and happy music.
Good clean fun. Family appropriate.
Nice for birthdays, shut-ins, Valentines day, etc.
It's 5-10 minutes long - 2 or 3 songs.
(Mike will give you choice of songs from his repertoire)
Extra fee for special request songs.

Rochester NY area base fees:
Weekdays - Mon - Fri.(5:00) ....$100.
Weekends - Fri.(5:00) - Sun......$150.

Add one dollar per mile anywhere else(2-ways).

Example :
Canandaigua NY: $100 - base fee
+ 60. -60 mi. to Canandaigua and back
= tot-$160. Weekend-$210

Example :
Buffalo NY: $100 - base fee-
+ 160 - 160 mi. Roch to Buff and back
= tot-$260 Weekend-$310

Example : Los Angeles Ca 100. + 6000. (6000 mi. to L.A. and back) = tot-$6100.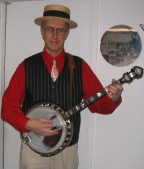 TO SEND Call or text cell-585-734-1044 or call -585-288-6360



---